When you set up your company in Hong Kong, you will receive a Business Registration Certificate issued by the Inland Revenue Department.
This document is absolutely crucial to your company.
This article outlines everything you need to know about Business Registration Certificate in Hong Kong: what it is, how you can get one and why you need one, including any other additional guidelines around it.
1. What is a Business Registration Certificate?
A Business Registration Certificate (BR Certificate) is an official document issued by the Business Registration Office of the Inland Revenue Department upon registration.
A BR Certificate contains all the details of a company including its:
Business registration number
Company name
Business name (if different from company name)
Address
Nature of business
Type of business
Date of incorporation
Expiry date of the BR Certificate
If you change any details of your business, you must report to the Business Registration Office within 30 days.
The registration number on the BR Certificate is also known as tax identification number (TIN) of your company.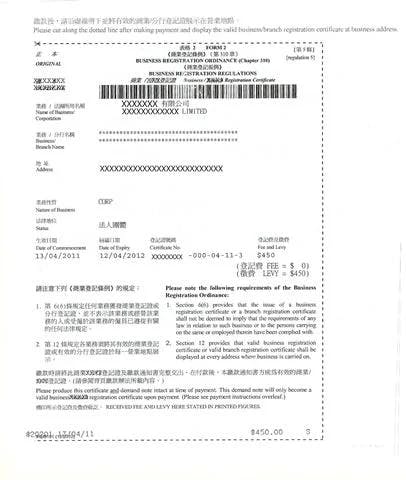 2. Which businesses need a Business Registration Certificate?
The Inland Revenue Department states that the following types of businesses and activities are required to be registered with the Business Registration Office:
Local and overseas companies that have established a business in Hong Kong regardless of there being any business activity carried out or not
Overseas companies that have a representative or liaison office in Hong Kong
Overseas companies that have let out their property based in Hong Kong, regardless of whether it has an established place of business in Hong Kong.
All types of trade, craftsmanship, commerce, profession or activity carried out for gain
Any club that provides services, facilities and exclusive club premises to members for social interaction and recreational purposes.
To keep in simple, all companies, sole proprietorships or partnerships in Hong Kong need to register get a Business Registration Certificate.
Exceptions exist. For example, charitable institutions do not need a Business Registration Certificate.
There also is an exemption for individual shoe polishers.
3. How to obtain a Business Registration Certificate?
When you register a company in Hong Kong, you will automatically obtain a BR Certificate as soon as it is incorporated.
Even if it is issued by the Inland Revenue Department, the Business Registration Certificate will be collected from the Hong Kong Companies Registry together with the Certificate of Incorporation.
If you register a sole proprietorship, you have to apply to the Business Registration Office to get your BR Certificate.
The application process involves completing the 'Request for Business Registration Application Form' (IRBR194) form and paying the required fee.
There are different forms depending on the structure of your business. All you have to do is select the option that applies to you and fill in the corresponding form.
Also, if you have a business at another branch, you will need to obtain a BR Certificate for that branch.
4. Your Business Name
You have to register a business name as part of the registration process.
It is advised by the Inland Revenue Department to either register a Chinese name only, an English name only, or register both a Chinese name and English name.
Please note that your business name does not have to be the same as your company name.
5. Your Business Registration Number
A Business Registration Number is a unique number used to identify and register a business with the Inland Revenue Department.
The unique eight-digit number is mentioned on the BRC.
It needs to be provided when conducting business activity that is regulated by government bodies.
People often get confused between the Business Registration Number that is displayed on the BRC with the Company Registration Number displayed on a Company Registration Number.
To understand the difference between both certificates in detail, please refer to our previous article on this topic here.
6. Displaying Business Registration Certificate for Inspection
You are required by law in Hong Kong to display the original BR Certificate at the place of business including its branches so the relevant officer or representative from regulatory and governmental bodies can see and verify it during an inspection.
Not only should you do this to comply with regulations but also because it can be beneficial for your business.
Seeing an original Business Registration Certificate gives an excellent impression to existing and potential customers.
7. Failure to comply
Non-compliance can result in heavy fines if you fail to register on time or register too late.
If you register too late, you will have to pay a fee for all the years that you have not complied with including any additional penalty that is imposed.
Non-compliance can cause significant disruptions to your business as you may face difficulty in filing tax returns.
8. Other Licenses and Permits
It is important to note that along with a BR Certificate, you may need other licenses and permits to run your business.
These licenses and permits will depend on the nature of your business (e.g. food importation license, SFC license, money service operator license, etc.).
Final words
Here is what you should always have in mind:
A Business Registration Certificate is required for your Hong Kong company
The Registration Number on the BR Certificate is also known as your company's Tax Identification Number or TIN
The Registration Number on the BR Certificate is different from the Company Number mentioned on your company's Certificate of Incorporation
You must ensure that your Business Registration Certificate is renewed on time upon expiry
When using the service of Air Corporate, you can access and download your Business Registration Certificate 24/7 from our secured cloud platform.
Looking to incorporate your business in Hong Kong?
Register today with Air-Corporate, and get access to all your business documents online, anytime.
Focus on your business. We take care of the rest.